The lead up was full on. The program was tight. The sound equipment was always going to pose challenges. And the Brisbane chapter of the Zeitgeist Movement mastered all challenges, learned many valuable lessons on the way and put on an event that will be long remembered as fun and chilled-out while also being informative and carrying a powerful message of empowerment.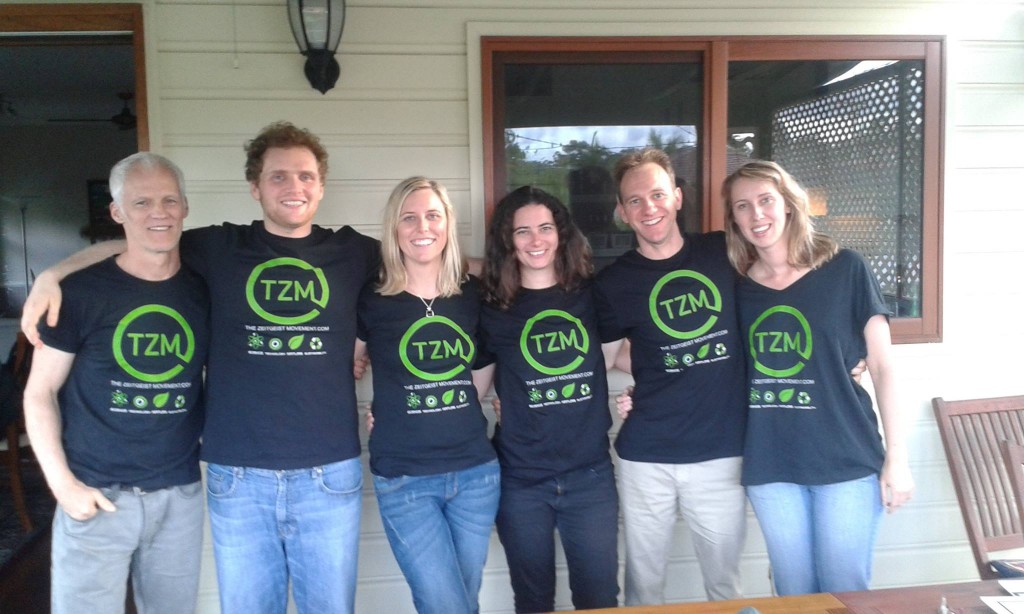 The day began with the setup of the venue. What a strange feeling to be at the iconic Rumpus Room in the heart of West End at 9.30am! We moved seats and tables, put up fabric across windows to display art and set up the creative corner and workshop tables with art supplies. Blu Tack was in high demand. We set up a clothes drive outside for all those people who were in need. All the while the tech team was busy sorting out cables, leads, stands, speakers and and and… it was a great feeling to make the venue our own!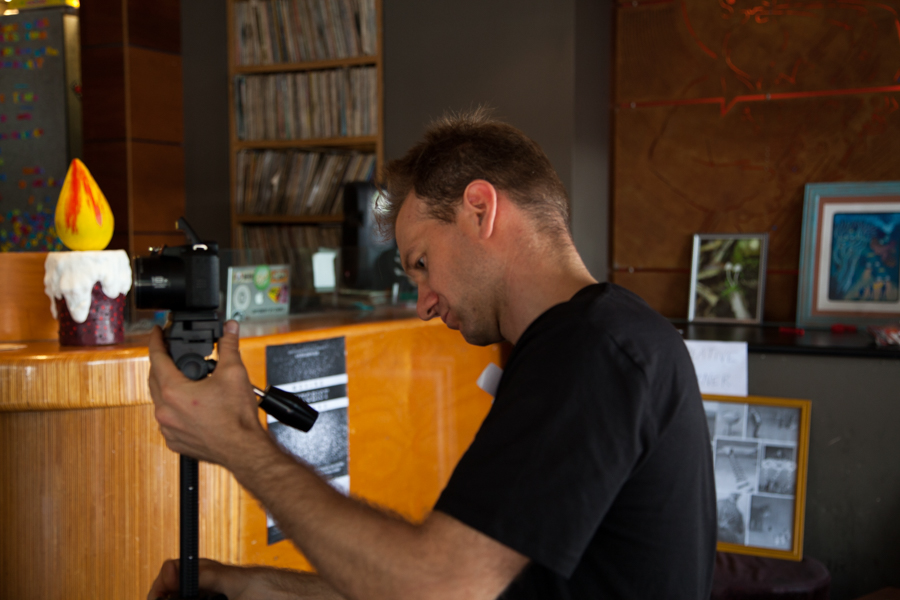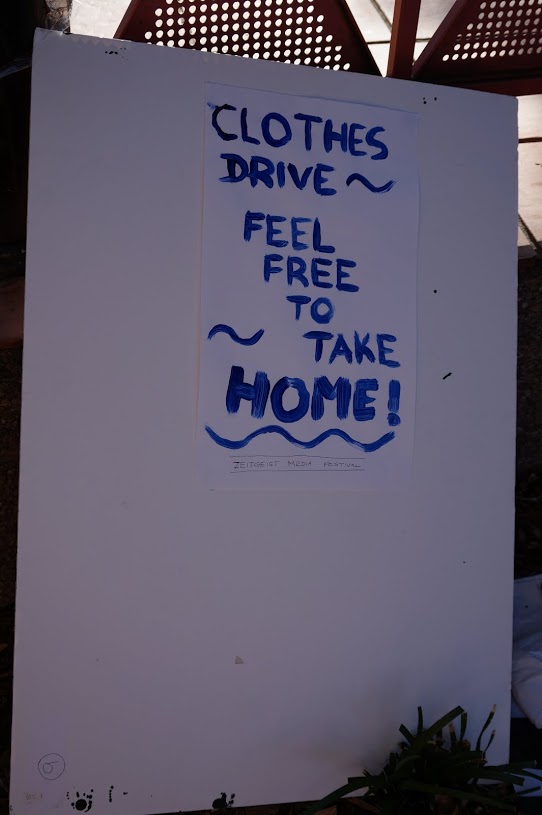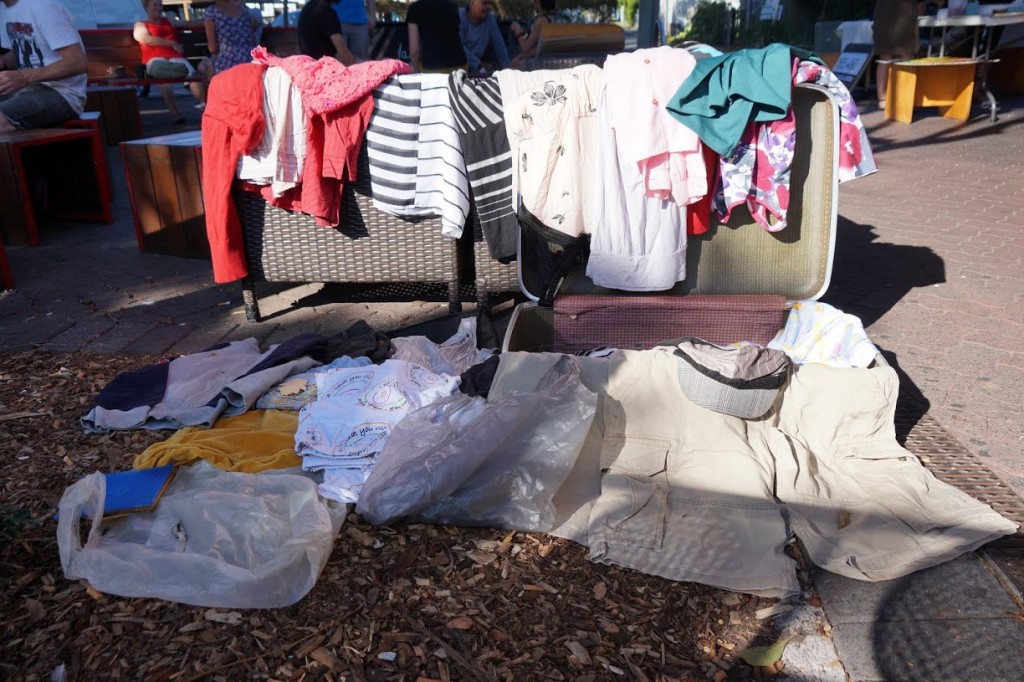 Our members started trickling in. More art, more instruments, cakes, board games and helping hands. Simon Cole's beautiful banner designed by Casey went up above the front doors. What a team!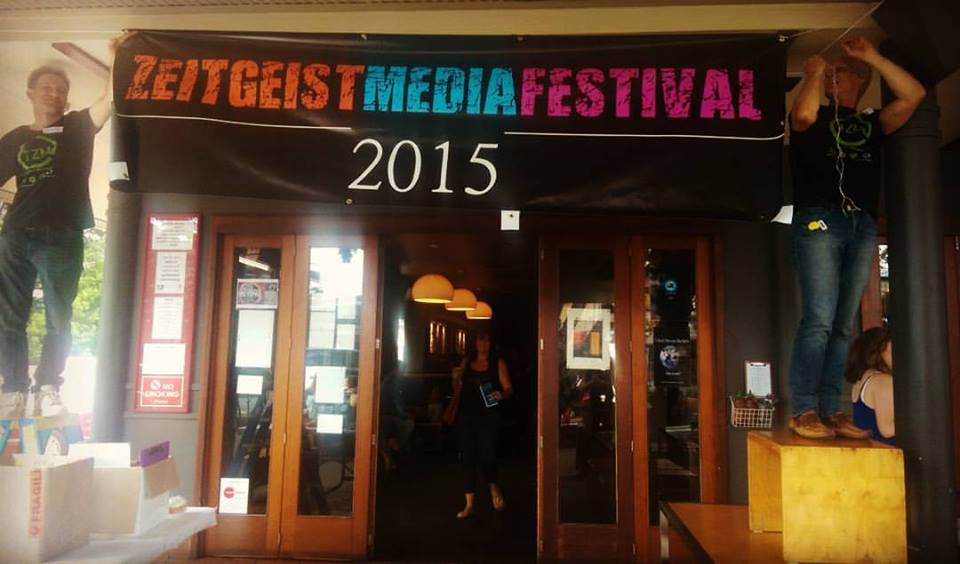 It was nearly 11am. Where are the people? Ah well, we don't start till 11.30 anyway. Give 'em time, we know what it's like. No stress – that had been our motto all along, and our generous hosts at the Rumpus Room had added to that vibe over the months – Nathan and Leon are the most chilled-out guys an inexperienced event organiser like myself could have hoped for! Then the guests started to arrive.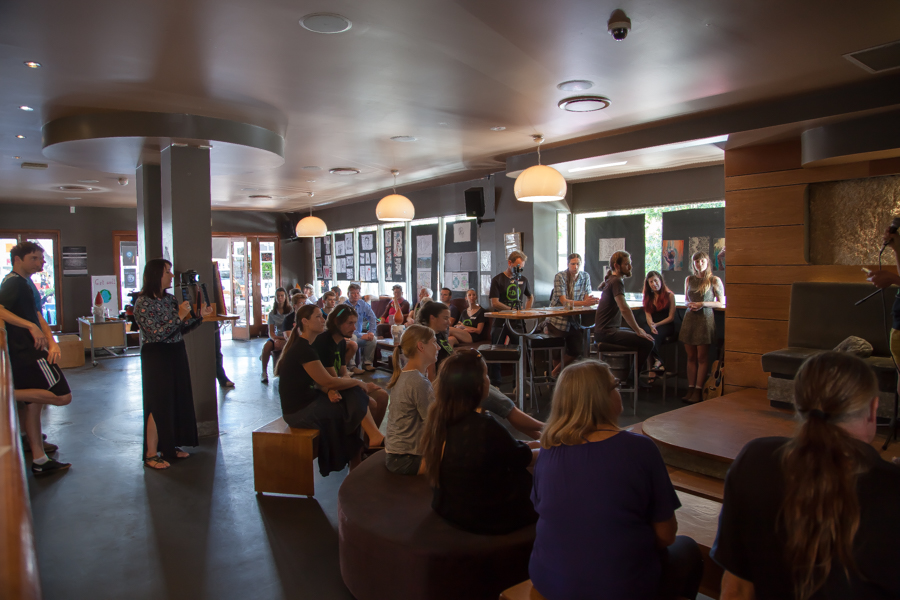 We started at 11.30. Casey rocked the mic in her usual nonchalant style that we all love and admire.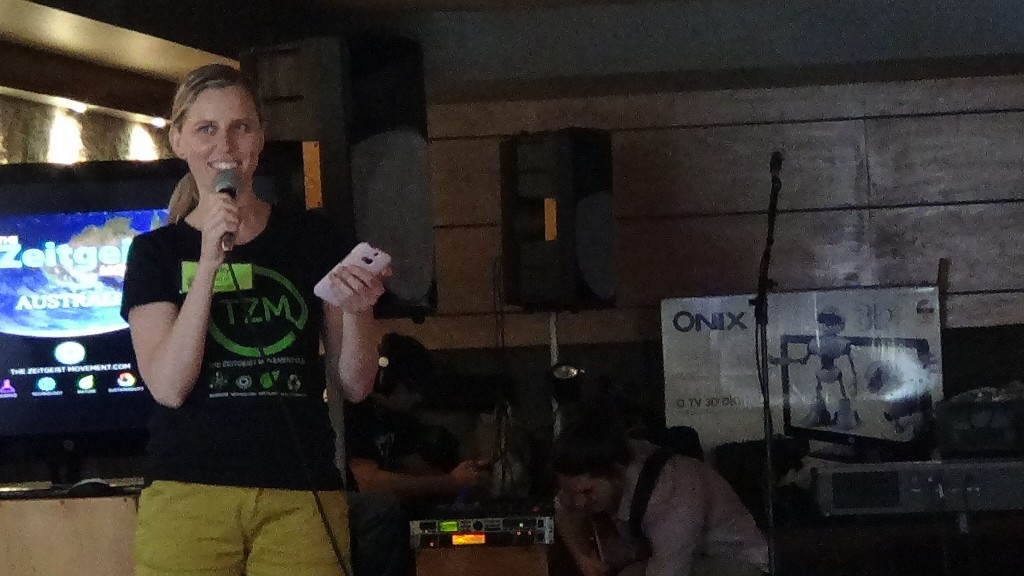 Our first musician was Damien Cooper who had traveled up from Lismore. A worthy opener for ZMF 2015 delivering a mix of excellent covers and original songs with a gorgeous voice, aided by a fancy foot pedal and some fine guitar skills.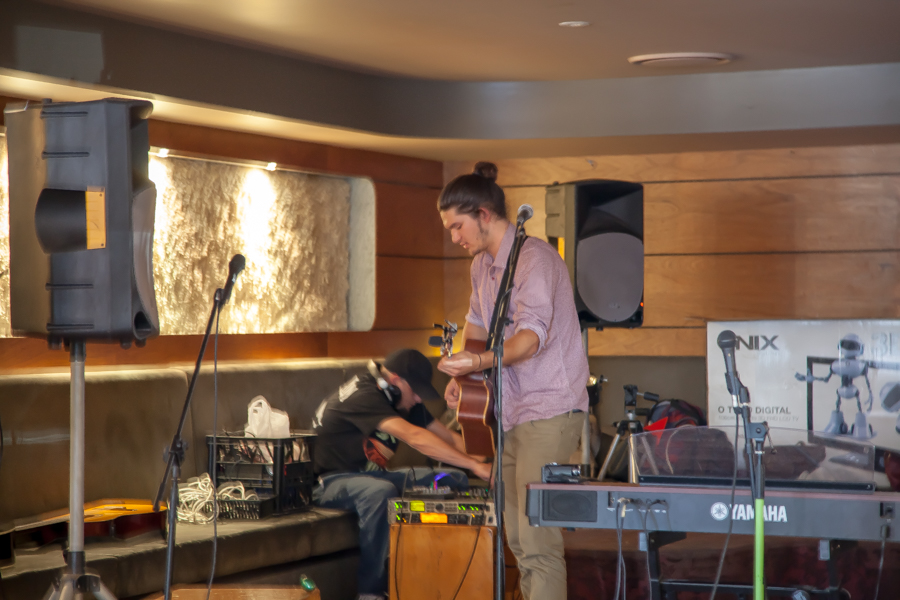 Next up was John Gordon, a one-time environmental engineer, long-time activist against coal mining and fracking, and singer songwriter from Alloura in the Darling Downs. His songs carried a powerful message. Australia's mining industry is rampant, corrupt and does not take into account the long-term impacts of its operations. Check out John's protest song "Australia, whore of the world", it gives me goose bumps every time.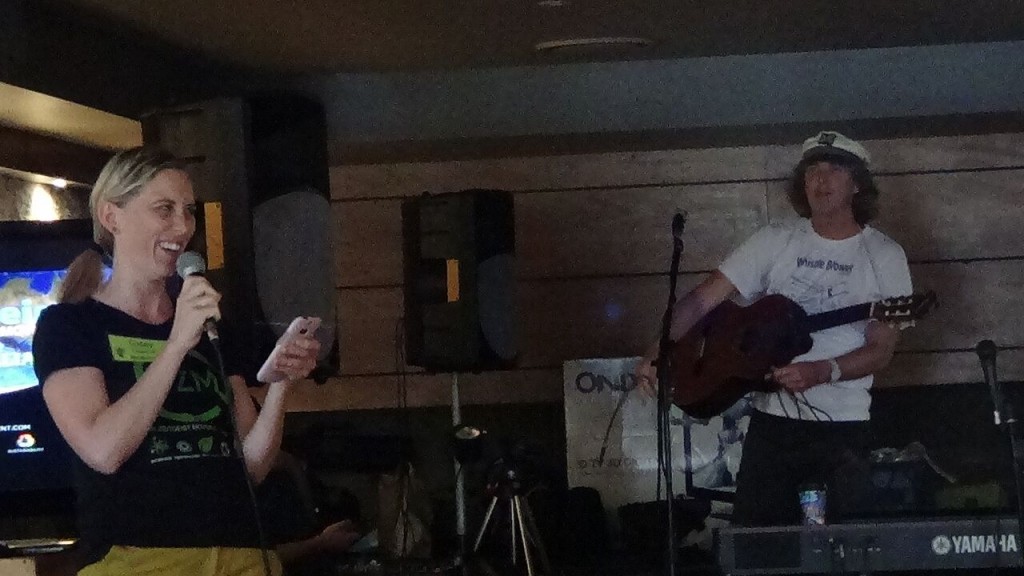 Rhi Smith was up next. An aspiring actor, she performed the final scene from Charlie Chaplin's movie "The Great Dictator". More goosebump material. And the technical feedback issues from our mix and match sound gear did not faze Rhi in the slightest – as she said herself later: The show must go on! And what a visionary Charlie was, ripping into capitalism like that almost 100 years ago!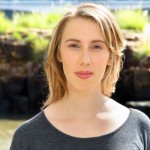 Then it was my turn! Presentation time! And time to drive the Solarpunk train right into my eager audience. I was finally feeling a little nervous. All seats were filled, standing room only – everybody was curious to hear about this brand new genre which aligns perfectly with TZM's visions and values. Positive future fiction, anyone? Yes, of course I also plugged my soon-to-be-published Solarpunk novel "The Last Patriarchs" as well as my dream/plan for an artist collective in Brisbane, Australia and the world!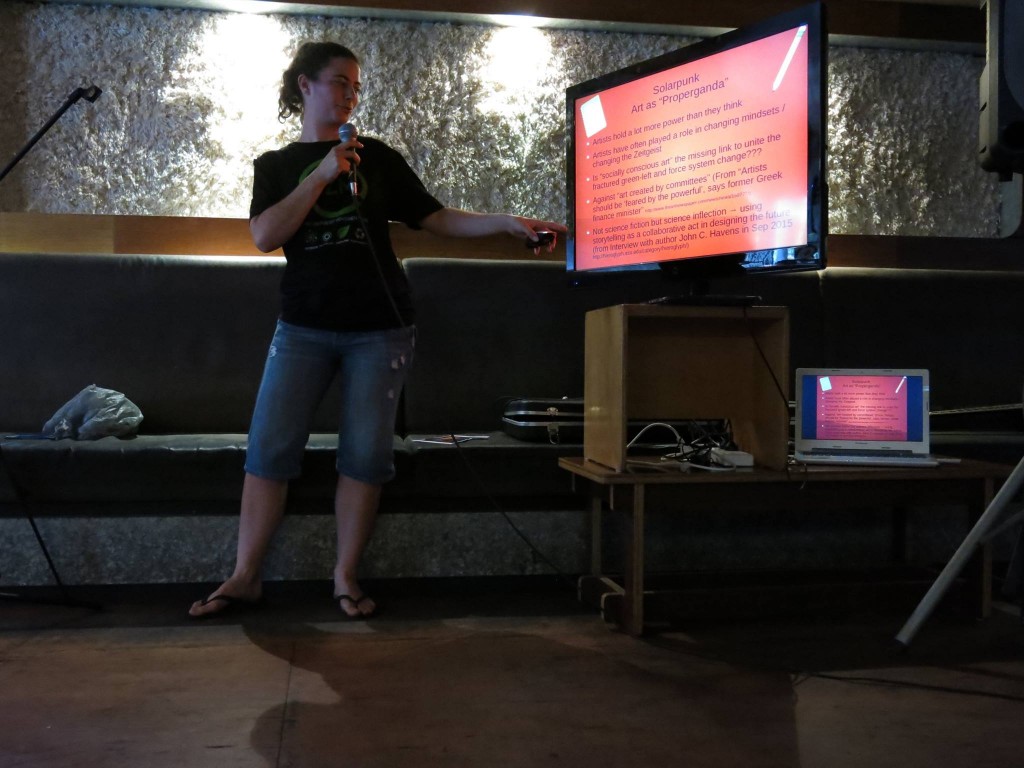 And then it was finally time for The TZM Brisbane Band to show and tell. Anita Diamond, Aceso, Barry Kopittke and Clayt Tomson started jamming together when we began to organise they performed the TZM theme song, the Rise Against cover 'Hero of War' and even an original composition. Great conscious tunes and we look forward to hearing more!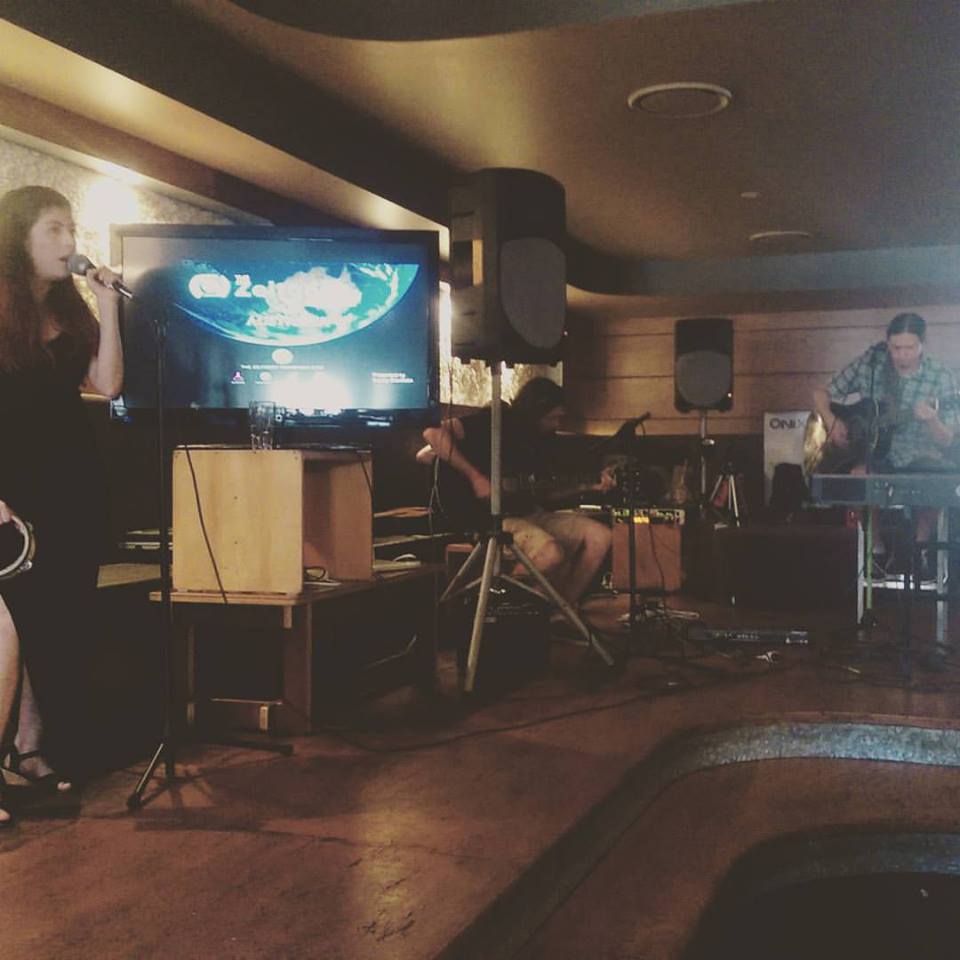 We had scheduled an Open Mic Session next, but everybody seemed to have such a great time mingling and networking that we ran with the way things were going. The festival vibe really was in full swing. The creative corner was bustling, Zac's board games were getting a work out and Lafe's Charlton's workshop had people get in touch with their inner child.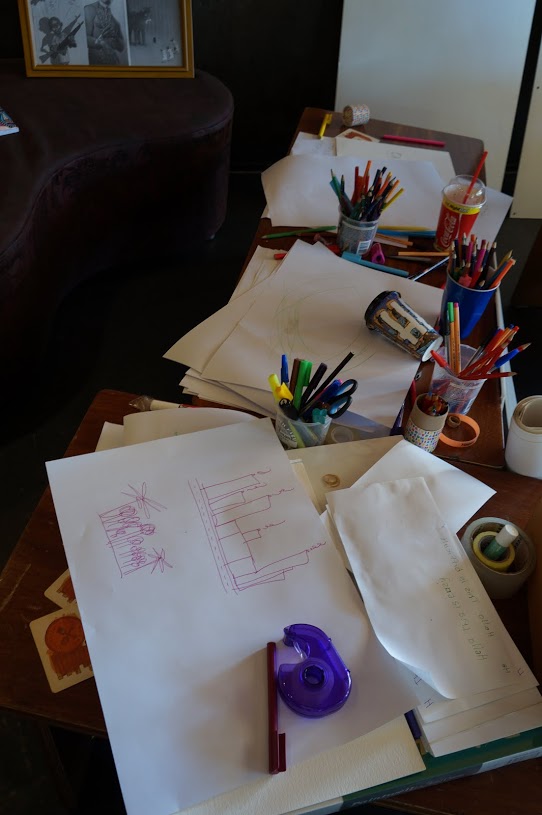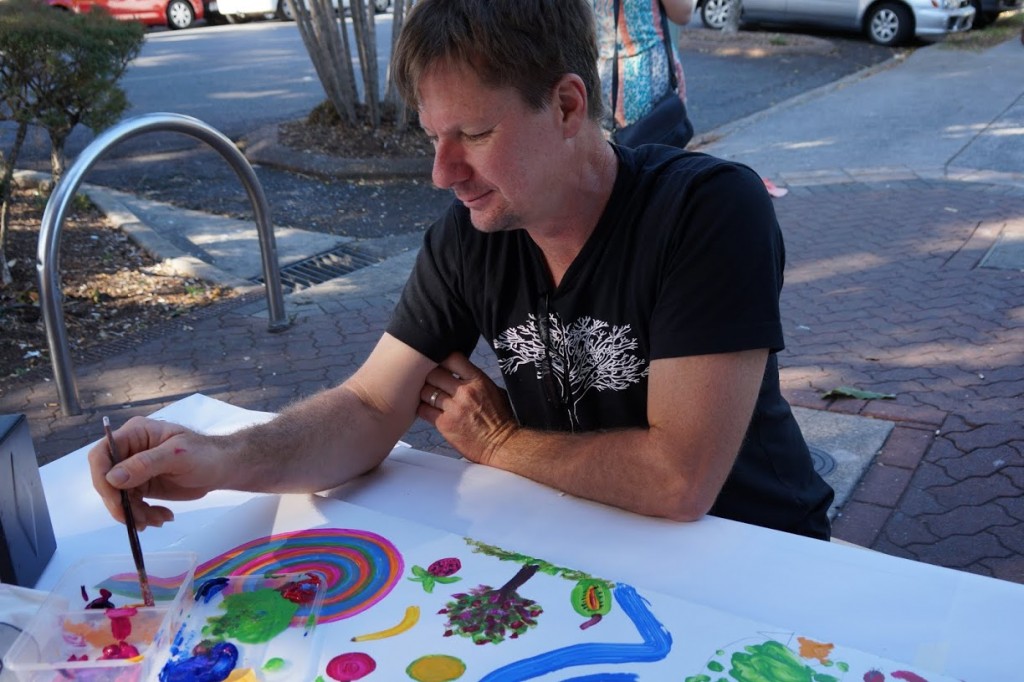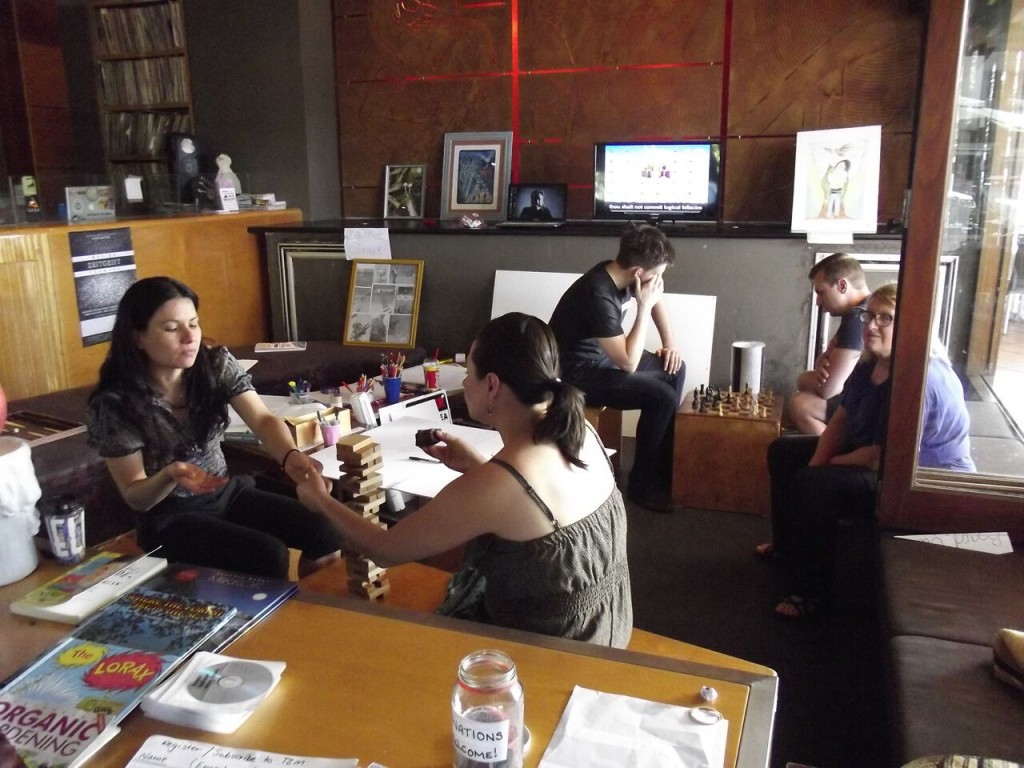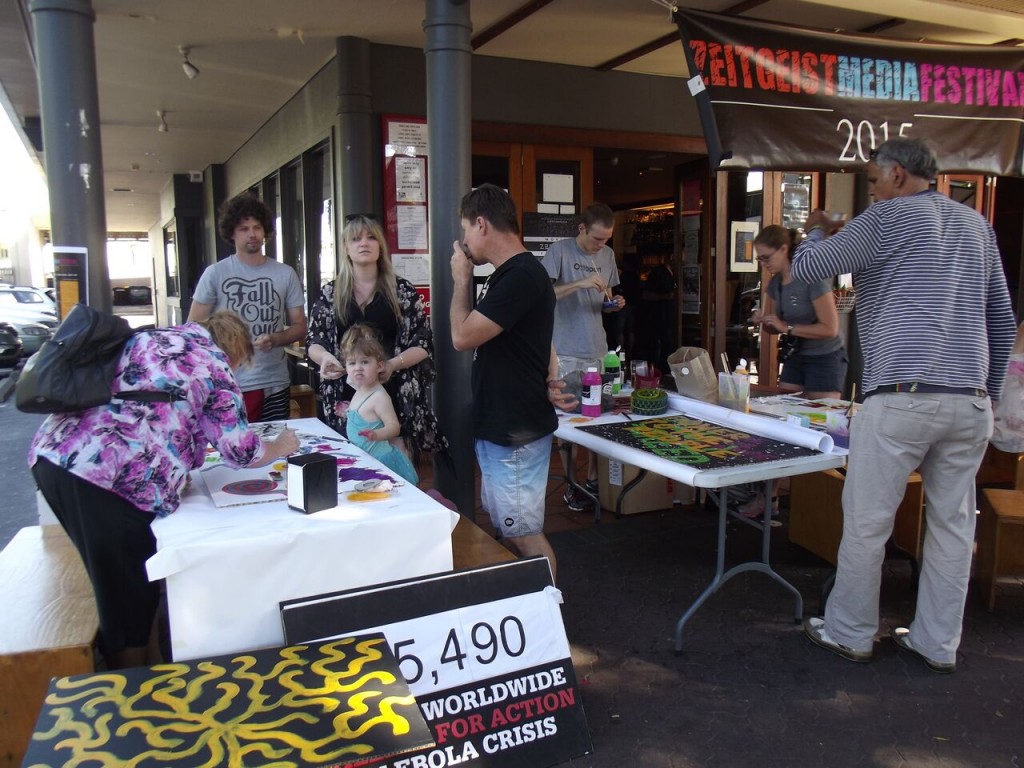 It was great to see our visitors checking out the artwork from a range of local artists – the inspiring paintings of blockades in Tara and the Pilliga State Forest by environmental activist Frida Forsberg (who is now part of Brisbane's 'Clean Air Alliance' that is campaigning to get coal trains chugging throught 21 suburbs covered to protect residents from coal dust) – the beautiful, trippy and at times haunting drawings by Liezl Le Roux – Garbrielle Fernandez' inspiring comics that convey complex topics in a simplistic way – the animal photography by wildlife carer Jess Gibbins – the interactive puzzle of the world by Minou Duval which carried several powerful messages for peace and unity – Aceso's gorgeous Peace Angel hugging Earth to her chest – the Lojban showcase by Timothy Diamond. On top of that were drawings by Casey, James Hill and myself as well as prints of inspirational Solarpunk and TZM-themed art.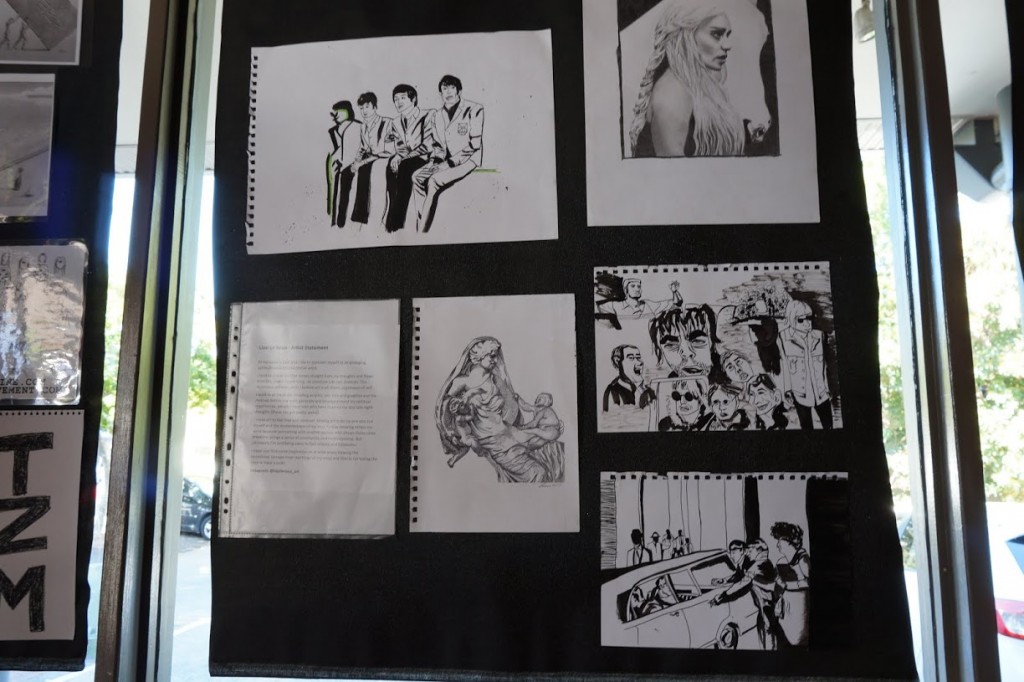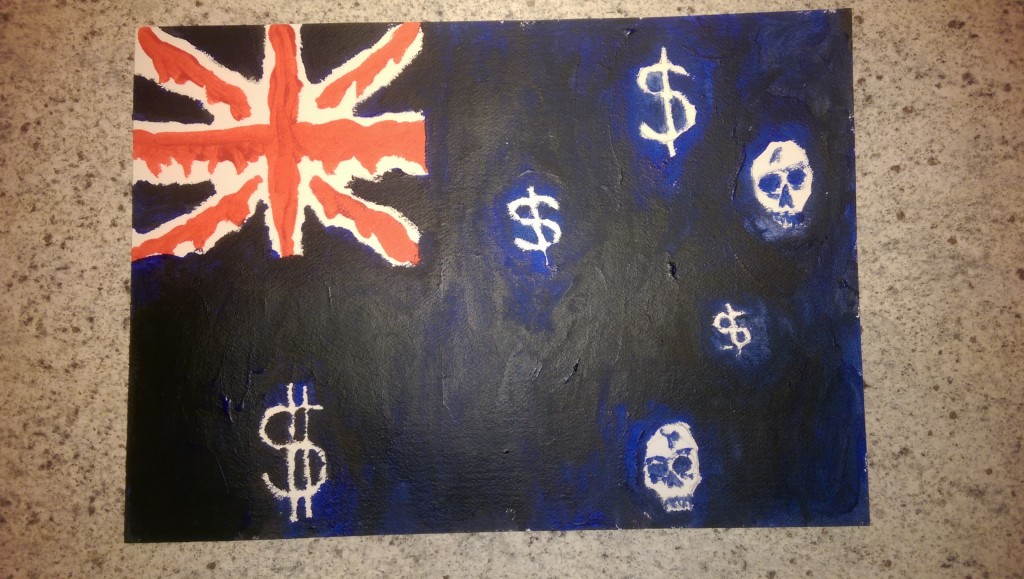 The place was buzzing. So much networking, so many chats. So much appreciation for each other. The vibe was so chilled-out, pretty much like all of TZM Brisbane's events, which is one of the many reasons why I love to be a part of it!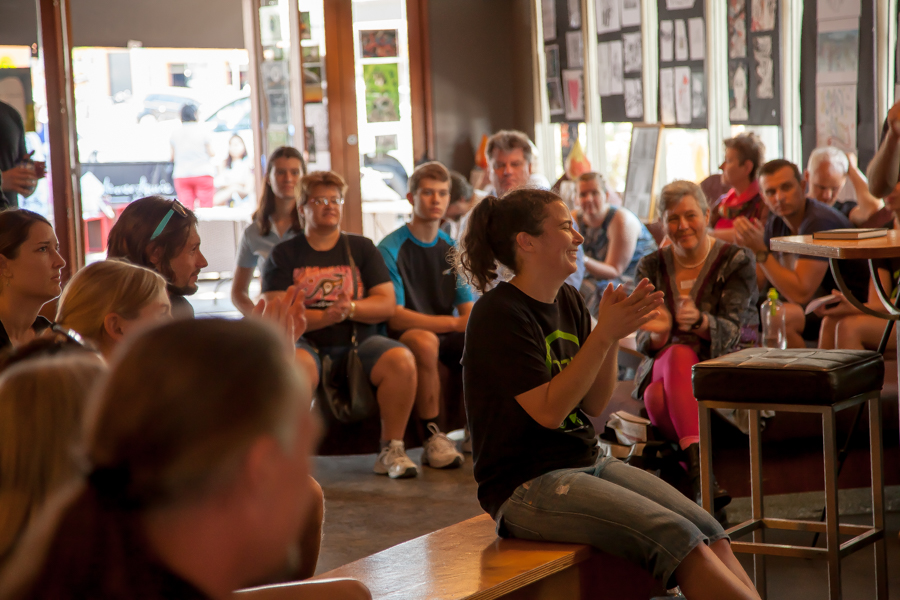 After the break it was Aceso's turn to give a voice to nature and transport us collectively to another world. Seriously, she was SO good. Everybody said that, not just me. On the piano, then on the guitar, all the while mesmerising us with her beautiful voice and performing all her own material. Neither Casey nor I had the heart to stop this talented young woman (and just maybe we forgot to look at the time, too…) and Aceso went a bit over her time slot – but what the heck, we had done so well staying on schedule so far! Leon and Nathan weren't fazed about a slightly later end to the day of course, and Aceso finished her set even though we probably could have listened to her for another 45 minutes…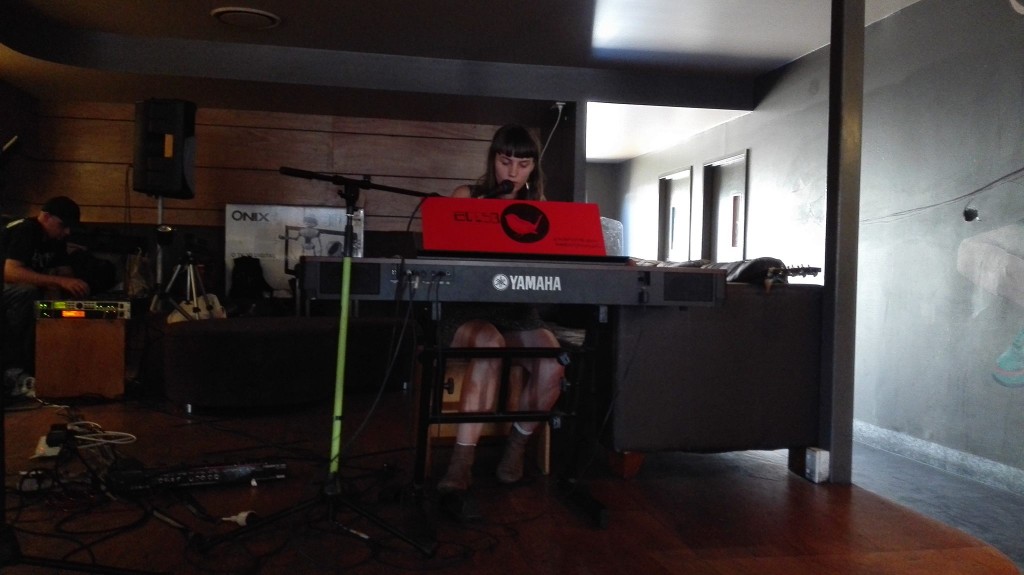 It was time for our short film and trailer! And time for some serious sound hickups, not that our camera woman Candice Stone was thrown off by that. She is a film maker with a mission and her speech moved us all. Muddy Scales is a community-based documentary highlighting the Great Barrier Reef and the coastal developments, especially mining, that are building alongside it. Mining and its fallout have a massive impact on the reef, the land and the community. Near Mackay the pristine homeland of the local Aboriginal community is threatened by the Urannah dam proposal which is supposed to supply water for the proposed Carmichael mine in the Galilee Basin. Candice spoke about the generosity of the people she met on the way and about the love for this land, this Earth, that makes us stand up to corporations and governments. Muddy Scales will be out soon, exciting times! We would like to thank Candice once again for taking time out of her busy schedule to film our event and wish her all the best for the journey ahead!
And here I should mention our very special guest Scuppers, the semi-wild Goose who had come all the way down from Cairns. She has her own facebook page advocating for her home – the ocean and the reef and the great land that is not just our home, but also hers.
"We have a special guest here, it's a goose. Can she hang out in the outside area there?" I asked Leon, just another oddball request for the day.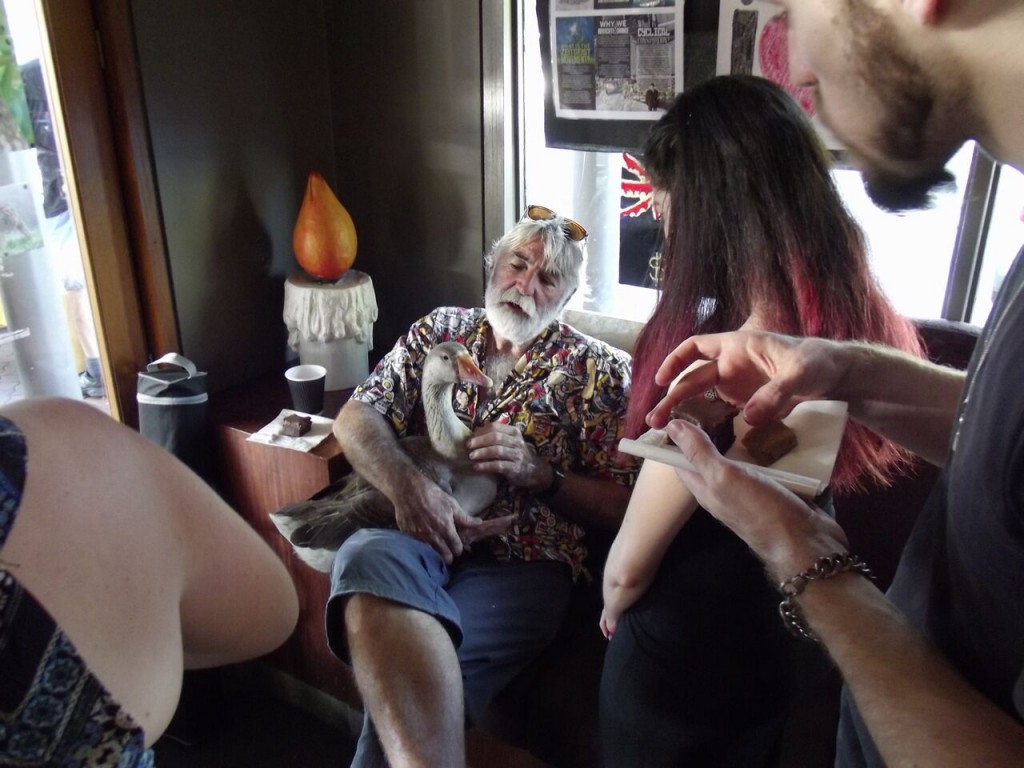 "Sure, of course, bring her in!" he replied, unfazed, sharing a memory about his own escaped pet goose. So Scuppers joined us in the Rumpus Room and supported Candice, and what a personality this gorgeous bird has, what a powerful voice of nature!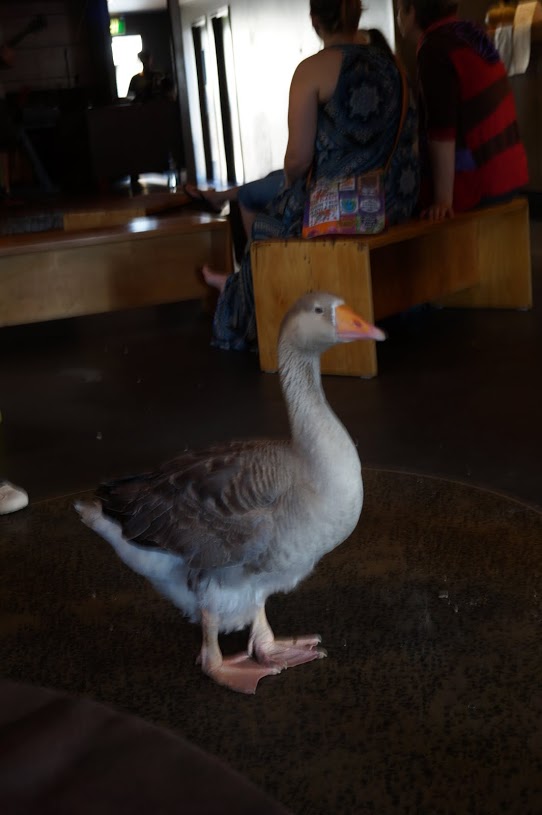 Our closing act was Epoxy Love from Bindarabbi. TZM Brisbane visits sustainable communities all around Australia and met this lovely duo on one of our recent excursions to the eco community. Mic and sound issues prevented Jade and Christopher from performing together, but their music and message was loud and clear and full of humour and insight. More love, less fear. We look forward to see you perform together at our next event!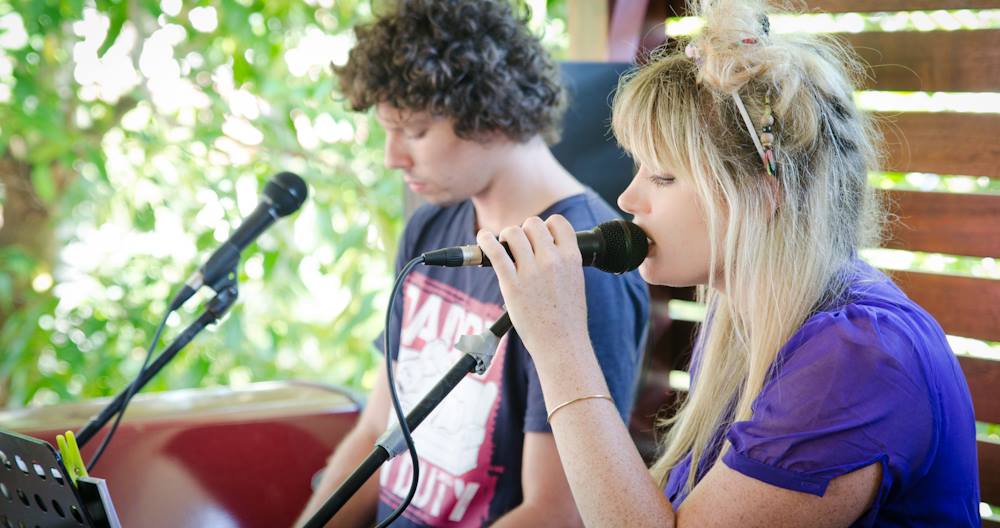 Time for prizes and closing words! The mic's had had enough. Ah well, I can raise my voice good and swell.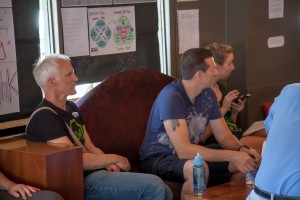 We had three $250 gift cards to give away that were generously donated to us by deep grey photographic studios. One went to Leon and Nathan from the Rumpus Room (and I sure look forward to see their portraits up on the wall there soon!), one to Candice and her campaign (seriously, she added so much to our event by offering her help and expertise and I can't wait to check out the final edit of our big event! Get to it, editor-in-chief-Eris!) and one to said Eris and Matt who formed our tech team and did an absolutely stellar job with the mixed and matched sound gear.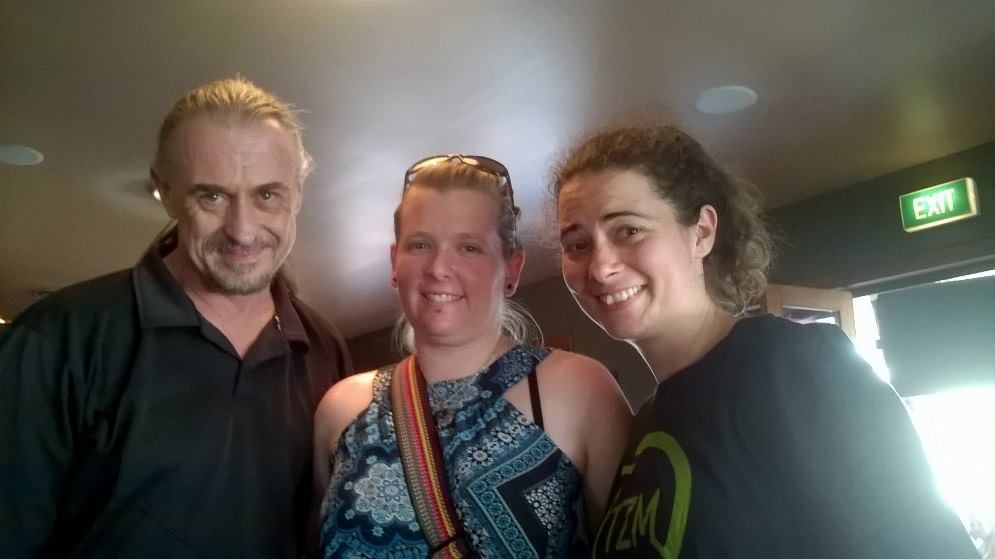 After another big thanks to our hosts, all helpers and guests (and a call-out to anyone who could help with the pack up) it was over. Not that it's really over. It feels more like it's the beginning! The buzz in the air, all the new connections formed…
TZM Brisbane is alive and kicking, and we look forward to building a bright, positive future, full of sharing and collaboration, in an RBE where we can have festivals like this one all the time!
One massive thanks to Comet, who is not just one of our members but also hosts EcoRadio on Brisbane's much-loved and always supportive local community radio station 4zzz. Thank you for your untiring work and love for the planet – your support and connections definitely brought our event up a few levels!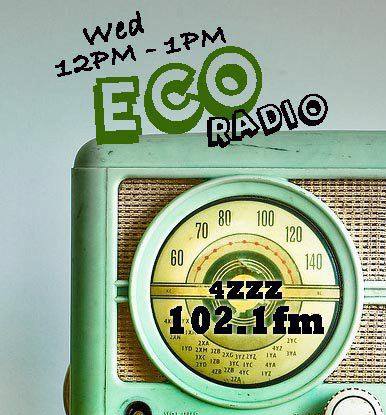 And of course a huge thanks to all our other helpers and guests who came and made this event so special, including those who brought yummy healthy snacks.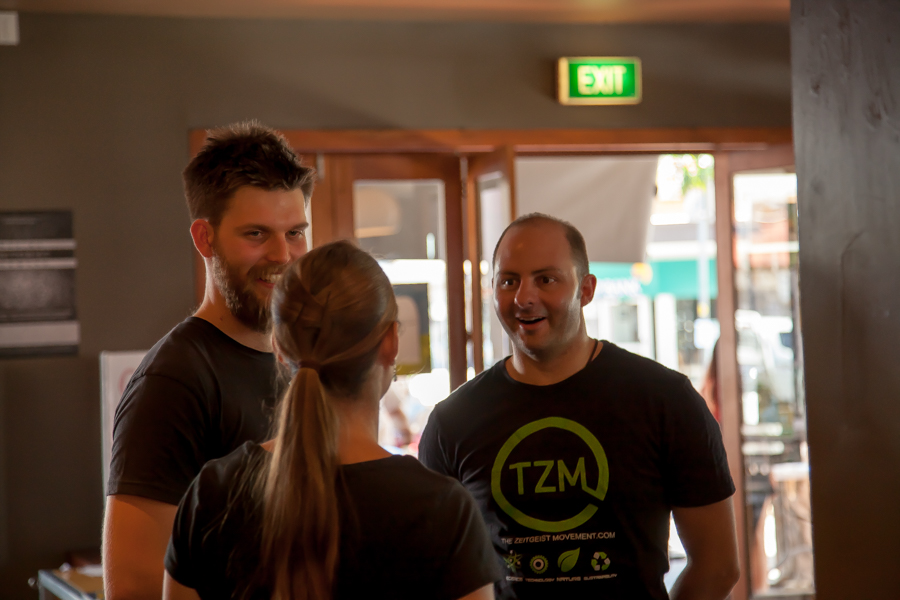 Our theme for the event was empowerment. What we realised in Saturday was that we were not just empowered by the amazing performers and artworks, even though that was a big part of it. But rather, our whole group was empowered by putting on this event. I myself got huge doses of empowerment as the main organiser, having never done anything like it before. It forced me to come out of my introvert's shell, liaise with a range of people, extend my network and learn to stay centered and calm under pressure. The event empowered the team spirit in Casey and me as we reflected over post-festival drinks what a great team we make. The appreciation and gratitude from our members, guests and artists translated into an uplifted, empowered Zeitgeist in all of us, and that is our goal after all, not just for TZM Brisbane, but for the whole world!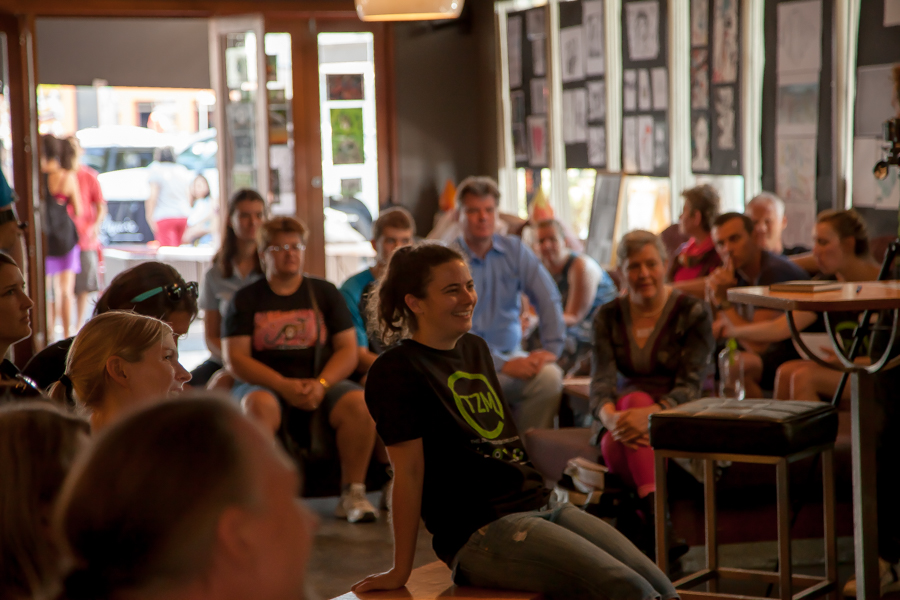 Additional photos and videos coming soon.